Please note, all prices quoted are inclusive of on-site installation by our fully qualified engineers (please see map for areas covered), all cables are safely installed away from air bags and fully hidden. Where possible the rear camera cable will be routed through existing grommets to the tailgate so no unsightly "drop loop". The power cable will be hardwired to the vehicle electrics to ensure safe operation and to take full advantage of parking mode.
Thinkware F200 Pro, fully fitted includes GPS antenna.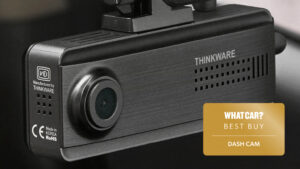 Front facing camera, £229.99
Front and rear facing cameras £284.99
Along with upgraded Ambarella CPU, F200 PRO provides FHD resolution on both front & rear cam, Super Night Vision and Time Lapse during Parking mode to provide continuous recording at 2fps, plus ADAS and safety camera alerts to help keep you safe.
High definition video quality.
CMOS Image Sensors allow constant front and rear view Full 1080p resolution during both daytime and nighttime along with a 140-degree wide angle lens view. This will minimize blind spots to assure recording of all events without fail.
Energy saving parking recording.
Energy saving mode will reduce power consumption by 1/2 and gives 2x longer video recording than normal parking mode. When you are away for a vacation or leaving your car for quite some time, energy saving parking recording is a recommended solution.
The Thinkware Dash Cam F200 PRO will go to sleep in Energy Saving Mode. Soon after an impact has been detected by a built-in G-sensor, the dash cam will wake up within a second and start recording for next 20 seconds of period.
Super Night Vision.
Dash cam Videos recorded in a low light environment such as dark alleyway or underground parking lot may not be clearly identifiable. SUPER NIGHT VISION uses ISP (Image Signal Processing) technology and the real-time image processing function to record clear, visible video in a low light environment when the vehicle is parked.
Time Lapse.
Important clips and images may get deleted due to insufficient memory space during long continuous recordings especially in standard parking recording mode which requires large memory for saving 15 to 30 frames per second.
TIME LAPSE MODE in the F200 PRO records 2 frames per second reducing the size of the video file. This allows video recordings in parking mode to continue up to 10 times longer than the motion detection recording.
Advanced Driver Assistance System (ADAS).
The THINKWARE DASH CAM F200 PRO is equipped with the Lane Departure Warning System (LDWS), Front Collision Warning System (FCWS), Urban Front Collision Warning System(uFCWS) and Front Vehicle Departure Warning (FVDW) to ensure driver safety with an audible alert.
Your smartphone and the F200 PRO can be connected via the exclusive application, THINKWARE DASH CAM LINK. Check download or delete recorded images, and configure dash cam settings.
PC Viewer.
The intuitive and simple-to-use interface of THINKWARE DASH CAM allows you an easy and convenient viewing of your recorded videos. Through PC or Mac viewer, you can playback and download recorded videos along with your route history and speed record. You can also change the dash cam settings, format the memory card, or install updates with just a few clicks on the viewer.
For full specifications for the Thinkware F200 Pro please have a look at the Thinkware Specifications
Thinkware T700, fully fitted.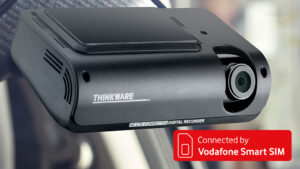 Front facing camera, £339.50
Front and rear facing cameras £398.99
Thinkware Connected LTE *Compatible with Android (7.0 Nougat or higher) and iOS (11.4 or higher)
A smarter connected experience with 4G LTE Connectivity. Depending on the mobile carrier, a standard data plan is included for Thinkware Connected LTE compatible dash cams.
*This standard data plan policy may not apply to your country.
Thinkware Connected LTE, our new and improved mobile app offers a wide range of smart features. Now you can truly communicate with your vehicle in real-time seamlessly.
Receive impact notifications, play videos (strong impact crash in continuous recording mode, parking impact), view captured image of most recent parking, and monitor your vehicle status and driving history on your mobile.
*One account on Thinkware Connected LTE can connect up to five dash cam devices.
For full specifications for the Thinkware T700 please have a look at the Thinkware Specifications
Thinkware F790, fully fitted.
16GB front facing dash camera, £265.27
32GB front and rear facing cameras, £361.48
Sleek Detachable Design.
Along with upgraded Ambarella 1GHz Quad Core CPU, the Thinkware F790 Front facing camera provides FHD resolution (1080p), Super Night Vision, Built-in GPS, Built-in WIFI and Time Lapse during Parking mode to fully surveil the vehicle and Dewarping Video Technolgy for clear & crisp video recordings.
The optional rear facing camera provides FHD resolution (1080p) to capture high definition footage of what's happening behind the vehicle whilst you are driving.
WiFi connectivity for camera management by the THINKWARE Link app and firmware update,
Super Night Vision with HDR which reduces noise and enhances image quality in low light conditions, The F790 uses a combination of High Dynamic Range (HDR) and Noise Reduction technology to reduce noise and lens flare effects that typically affect nighttime footage.
Dewarping for both Front & Rear View Recording – Dewarp technology minimizes an optical distortion caused by the lens of the camera. It takes footage from a dash cam and corrects the original shape to view the full video image without distortion.
Safety Camera Alerts with automatic database update via the THINKWARE Link app,
ADAS alerts, including FVCW, LDWS, FVDS and low speed FCWS for increased driver safety,
Parking mode, including impact and motion detection, time lapse and ultra-energy saving mode giving up to 24 days duration
HEVC (High-Efficiency Video Coding) format compresses high-resolution videos 1.7 times higher than the Advanced Video Coding format, giving correspondingly longer video recording time
Video feed for the second channel, to drive an external monitor for DVS compliance or rear view camera applications
The mounting of the camera assembly on the windscreen is unique, with the cradle housing the GPS receiver being separate from the camera that slides into the mount. The cable connecting the power and rear camera accessories is a single flying lead coming out of the back of the cradle, making for a more permanent and professional looking installation.
Thinkware Q1000, fully fitted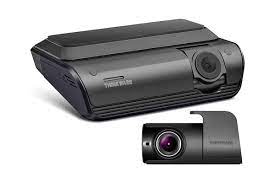 Front facing dash camera, £325.00
Front and rear facing cameras, £406.21
Thinkware Q1000 Dash Cam – 2K QHD 1440p Front & Rear Car Dash Camera with Built-in Wi-Fi, GPS & Bluetooth, Super Night Vision.
Capture all road conditions and surroundings in detail with the Sony Exmor R Starvis image sensor. It allows constant 24/7 crisp, clean QHD 1440p resolution front and rear cam footage recording, along with a 156-degree wide-angle range that significantly minimises blind spots
SMARTER CONNECTED EXPERIENCE: The Q1000 allows for quick communication via built-in Bluetooth. Receive notifications and footage of remote live view, real-time impact and vehicle location. Geo fence your vehicle remotely via built-in Wi-Fi with the Thinkware Connected LTE App. iOS/Android compatible
REVOLUTIONALISED NIGHT TIME VISION: Record night-time drives with true colours and minimal noise thanks to Thinkware's advanced performance low-light recording technology. Our Digital Overlap High Dynamic Range (DOL HDR) and Noise Reduction technology reduces noise and lens flare
SMART PARKING MODE: The provided hardwire lead enables the dash cam to monitor your vehicle and its surroundings while the car is turned off. The device will continuously monitor the health and status of the vehicle battery and shut down if any issues with the battery are detected
ADVANCED DRIVER ASSISTANCE: Drive safer with a Thinkware dash cam serving as your extra eyes on the road. The built-in GPS antenna enables an audio alert for advanced driver assistance features such as forward collision, front vehicle departure and lane departure warnings and regularly updated speed camera database
Disclaimer:
To enable connected features, the U3000 and Q1000 dash cams will need access to a data source. Connecting the dash cam to a mobile hotspot device or a Wi-Fi network with Internet access will consume data. Carrier/Service provider charges may apply.
The smartphone used to set up the Internet connection on the Q1000 dash cam cannot also be used as a mobile hotspot for the dash cam. A different hotspot device/smartphone is required.
To connect the dash cam to the internet, use the Thinkware Dash Cam Link App. Once the dash cam is connected to the internet, you can go to the Thinkware CONNECTED app to get access to CONNECTED features.
Thinkware CONNECTED service is in beta version right now and some features may be unavailable or limited.
Thinkware U3000, fully fitted.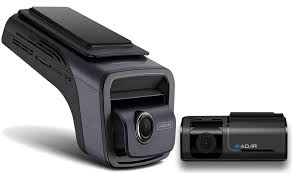 Front facing dash camera, £425.48
Front and rear facing cameras, £547.64
The U3000 delivers improved 4K recording performance compared to the U1000, thanks to Sony's new STARVIS 2 image sensor and a more powerful Ambarella CPU. The addition of an adjustable bitrate offers the flexibility to record sharper footage.
Enjoy parking protection against potential mishaps and hit-and-runs by capturing footage when an impact or motion is detected as long as the kit has been installed with the Hard Wire Cable. You can also tailor the U3000's Parking mode based on your surveillance needs by choosing from Motion Detection, Time Lapse, Energy Saving Parking mode, or the new Radar Parking mode.
Radar Parking mode is a low-powered recording mode that utilises the U3000's built-in radar to monitor motion with minimal power consumption. This allows for longer buffered parking surveillance so you also have footage of events leading to an incident. When a motion or impact is detected, the U3000 will save a 20-sec video clip (10s before and 10s after the incident has been detected).
4K UHD (3840 X 2160) @30fps or 2K QHD
4MP Sony STARVIS 2 sensor
152° Wide Viewing Angle
Super Night Vision 4.0
Dewarping Technology
Advanced Video Clear Technology
HEVC format H.265
Built-in GPS
Road Safety Warning System (ADAS)
Safety Camera Alert (Speed Camera & Red Light Camera)
Built-in Radar
Parking Surveillance Mode (Radar, Smart, Motion & Impact Detection, Time Lapse and Energy Saving Mode)*
Time Lapse (Record @2fps/Playback @10fps)*
Easy Device Pairing
THINKWARE Connected (Locate Vehicle, Driving Impact Notification, and Remote Live View)**
Thinkware Dash Cam Link app (Dashcam settings)
Supports MicroSD Cards up to 256GB
Supercapacitor
Integrated Thermal Protection
Anti-File Corruption
Please Note:
Parking Surveillance mode requires a Hard Wire Cable to be installed at the point of installation.
The distance and degree of detection can be different depending on the environment and other factors.
Not every object is guaranteed to be detected.
Thinkware CONNECTED features are unavailable in Radar Parking Mode as all network data functions are turned off to reduce power consumption.
Thinkware CONNECTED uses your smartphone's or mobile hotspot device's internet connection to send and receive notifications. Carrier charges may apply.
Thinkware External Rear Camera For Use On Commercial Vehicles POA.
We now offer an external rear camera solution for commercial vehicles.
With this new camera, video behind your van or truck can now be recorded in conjunction with a forward facing dash cam.
This external camera is compatible with the F200 Pro, F790 & T700 so the most popular range of Thinkware dash camera's are covered.
Thinkware F790 Reversing Camera Solution.
F790 mirror monitor option £499.99
F790 dash mounted monitor option £512.00
With all the features of the F790 dash cam this solution provides the abilty for the dash cam to also function as a reversing camera.
Simpy select reverse gear and the rear camera will automatically switch to display the rear image on the monitor.
There are two options of monitor availabe, either a mirror type which is fixed to the front screen on vehicles with no rear view mirror or a dashboard mounted alternative when a mirror is already in place.
Please contact us for further information.